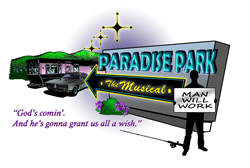 'Paradise Park The Musical' is based on the cult classic film of the same name by acclaimed West Virginia filmmaker and director Daniel Boyd and will premiere at Theatre West Virginia June 15.
"God's comin', and he's gonna grant us all a wish."
"God's comin', and he's gonna grant us all a wish." 'Paradise Park The Musical' has been adapted for the stage by acclaimed West Virginia filmmaker, director Daniel Boyd. Mountain Stage's own Larry Groce has written a new and extensive score for this premiere. The story contains themes familiar to citizens of West Virginia; poverty, religion, hopes and dreams and centers on people caring for other people, through hard times, through natural disasters and through everyday life.
While these themes are all too familiar to West Virginians, Daniel Boyd said; "It is set in one particular community but the story is universal." Composer Larry Groce chimed in with; "When I first read the script for Paradise Park The Movie, back in 1991, I loved the heart of the script. I loved what this script was really about. It symbolizes, in many ways, what I found in West Virginia. I came here 45 years ago and I found people who care for other people. That's what this story's about." Theatre West Virginia General Manager Scott Hill had this to say about the show; "You may know 'Paradise Park' the film that was 25 years ago. Larry Groce was in it, Danny Boyd directed it, but we're turning that into a musical. We're turning that West Virginia story about God coming to a trailer park into a play, a musical, at Grandview for Theatre West Virginia."
This cult classic will make its way to Theatre West Virginia's 1,260 seat Cliffside Amphitheatre at Grandview in the New River Gorge National River outside Beckley, W. Va. beginning June 15. With show dates including June 15 through 17, June 20 through 24, and June 26 through July 1, performances begin nightly at 7:30 p.m. Tickets are available by visiting the Theatre West Virginia Box Office or by calling 304-256-6800.